Main content starts here, tab to start navigating
About Us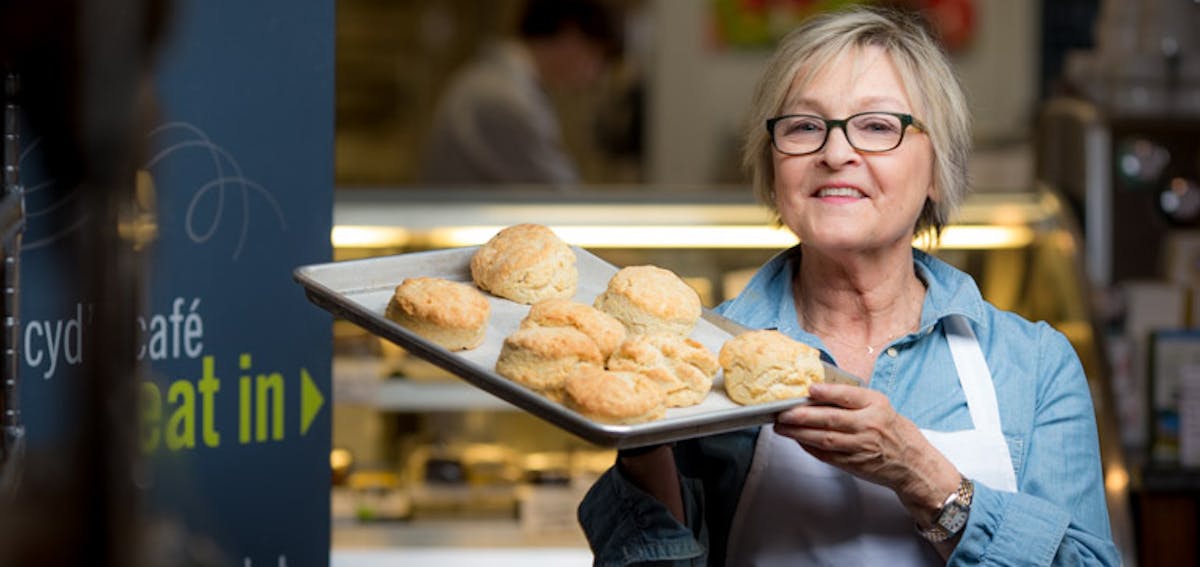 Opening Day in Peoria Heights
In the fall of 1988, Cyd opened the first location of Cyd's- known as our now corporate name, Cyd's Sendsationals, Ltd. Nestled in the village of Peoria Heights at the Prospect 4-way stop, Cyd's was a grab and go Food Shoppe. In the warmer months, green bistro tables lined the sidewalk out front for a quaint al Fresca lunch.
Cyd's daughter Emily comes aboard
After 12 years of off-site catering, and offering to go food for pick up or delivery, Cyd needed help. She had many great hands in the kitchen but she needed the kind of help running the show that only a family member could lend. Her daughter Emily returns to Peoria ready to come into the food business with a love of organizing and management. The small space in Peoria Heights is quickly proving to be a but of a tight fit. The hunt for a larger space with more parking is on!
A New Home
A new home, just up the road, is found for Cyd's in Junction City. This new location is a comfy fit with triple the space and loads of new opportunity! Cyd and Emily open an eat in space called the Cafe in Cyd's Gourmet Kitchen. The Take Away Market remains the main attraction with now ample room for shoppers to see all the fresh, flavorful dishes available. Packaged goods and gifts line the shelves, and a proper Bakery is added.
A New Family Member
Emily takes a husband and Keith Cotton joins the Cyd's family. As a professional photographer, Keith's full entry into the restaurant life is still a few years off, but he tip toes onto the scene with problem solving skills and an eye for detail that comes full circle in a few years.
Moving Again
After 11 wonderful years in Junction City, making it through a recession and many economic challenges, Cyd's moved again- this time into a Park! Now calling Donovan Park home, Cyd and Emily and Keith jumped all in to a partnership with Peoria's Park District to breathe new life into an unused space- providing space for another new concept to Cyd's: a full service restaurant. Cyd's Grill joined the Take Away Market in this new home adding loads of new fun opportunities to serve Peoria. In this new home, Cyd's Take Away Market operates in it's own space and the Eat In Grill and Star Bar operate in their own space- so both can serve independently providing more flexibility in serving the community. Catering and Events still manage all the private parties- held both on site and off, with all the special touches Cyd's has come to be known for. Keith designed the outdoor space with a detailed eye, providing fire pits for socializing, a kid's zone for block play, and the perfect backdrop for dining in Peoria's most unique + tranquil setting. And at the heart of it all- is Cyd's amazing food, of course. 35 years of great food that's never fussy and consistently fresh, just like the family recipes we use. We can't wait to see what the future holds for Cyd's + Peoria. See you soon!